Exploring Loch Lomond & The Trossachs
The area that surrounds Stable Lodge has no shortage of things to see and do.
You can expect to experience some of the best Visitor Attractions, Scenery and Outdoor Adventures that Scotland has to offer.
Activities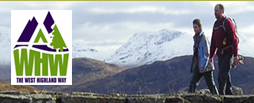 West Highland Way Walk
www.west-highland-way.co.uk
This was Scotland's first long distance walking route and today it remains the most popular. You can choose to walk parts of it and enjoy some stunning scenery along the way. You can join the route just 2 miles from Stable Lodge at Killearn or Drymen and walk stage 2 which is Drymen to Rowerdennan. It's a lovely walk and will take 6-7 hours.
The 154Km (96miles) route starts at Milngavie passes through Mugdock Country Park, follows the shores of Loch Lomond, passing Ben Lomond, through Glen Falloch and Strathfillan, crossing Rannoch Moor, past Buachaille Etive Mor to the head of Glencoe, climbing the Devil's Staircase, descending to sea level to cross the River Leven at the head of Loch Leven before entering Lairigmor and Glen Nevis and finishes at Gordon Square in Fort William.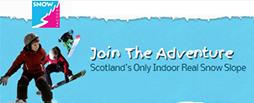 Xscape Braehead
www.snowfactor.com
Xscape is the ultimate family entertainment destination combining 'real' snow slopes with urban and lifestyle retailers, cool bars and restaurants, cinema, family attractions and extreme activities, all under one roof. If you're looking for an exciting day out where you can ski on the UK's biggest REAL indoor snow slope, learn how to ski on a beginners slope, visit a 12 screen multiplex cinema, 22 lane bowling, go rock climbing on one of the largest freestanding climbing walls in the UK, try out a state of the art aerial adventure course, experience the world's first passenger carrying robot, or jump and freefall on the Fandrop, Xscape is the place for you.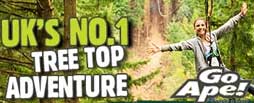 Go Ape Aberfoyle
www.goape.co.uk
Zip Wire Heaven in Loch Lomond. Go Apes first Tree Top Adventure in Scotland and what an impact it's made. Stunning scenery of the surrounding Queen Elizabeth Forest Park in Aberfoyle (Stirlingshire) gives the course a jaw-dropping backdrop and makes for a great day out in Scotland. Oh, and let's not forget, arguably, the course's main attraction: Two of Britain's longest zip wires, each stretching over 400m long, flying you 150 feet above the ground and over a 90 foot waterfall. A mecca for Go Ape pilgrims, thrill seekers, adventure lovers and those that just want to get out and have some fun in Loch Lomond.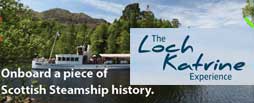 Loch Katrine Cruise
www.lochkatrine.com
Experience the historic steamship of Sir Walter Scott which departs from the Trossachs Pier or Stronachlachar. As you travel, the tales and legends of the loch are narrated by a member of the ship's crew, and you will be struck by the beauty of the landscape, the very scenery which captured the imagination of Sir Walter Scott, inspiring him to write his poem "The Lady of the Lake". You can also stroll around the loch with good paths or hire buggies and bikes.
Climb Ben Lomond
www.walkhighands.co.uk/lochlomond/ben-lomond.shtml
Ben Lomond is one of Scotland's most popular Munros and has stunning views of Loch Lomond and the hills in the north. Ben Lomond is Scotland's most southerly Munro and has been popular with explorers since the late 18th century. Rising from the east shore of Loch Lomond to a height of 3,193 ft. (974 m), Ben Lomond offers exhilarating walking and spectacular views in the heart of the Loch Lomond & The Trossachs National Park. Distance - 7.5 Miles, approx. 5-6 hours walk from Rowerdennan.
Castleredknock Trekking Centre
www.trossachstrekking.com
Pony/horse trekking
You will have the opportunity to reach your own personal potential on our 1 hour or 2 hour treks. In the course of our treks you will cover various forms of terrain, hill, stream and woodland with fantastic views of the Campsies, Lake of Menteith and the Ochil Hills. During our treks we will give instruction and advice if needed . This will ensure that your experience is enjoyable and trouble free. Many forms of wildlife can be viewed from horse back and our leaders and escorts will be delighted to ensure that viewing opportunities are not missed. We cater for all ability levels including children and welcome groups, families and individuals alike. We operate all year and work every day except Saturdays. Our 2 hour trek is at 11a.m and costs £32 . The 1 hour can be at 11a.m, 1.30 and 3.p.m.Children are often supported on a 1-1 basis. Booking by telephone is advisable.
Segway Treks at Castleredknock
Glide effortlessly over varying terrain and tracks on our exciting segways. An outdoor experience will follow an indoor training session. Segways are great fun and relatively easy to master . They are available for all over 10 years of age and within our 17 stones weight limit.Sessions can be booked by phone. The cost is £22 per person .
Shetland Driving at Castleredknock
This is an individual activity and can be booked by telephone. It is ground condition dependent but is great fun and something different. We have a shetland pony , Pepper, who will pull you along at most paces. A new skill which is fun and easy to master. Shetland driving costs £10 and lasts 30 minutes.
Quad pods at Castleredknock
Great fun for children from 3-10 years of age. The pods follow the quad around our scenic farm splashing through puddles and streams and sometimes even rounding up the sheep! This activity can be booked by telephone and costs £5 for 20 minutes.
Orienteering at Castleredknock
Can either be a group or individual activity . Follow a map and find our unique Castle Rednock controls with a hidden clue. Possible prizes can be won.
Places to Visit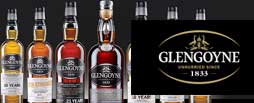 Glengoyne Distillery
www.glengoynedistillery.com
No visit to Scotland would be complete without a visit to a distillery and especially when it`s only a few minutes' drive from Stable Lodge.
There is so much going on at Glengoyne you will be spoilt for choice. You can choose to Explore the Distillery, Whisky Tasting , Whisky and Chocolate Matching, Master Blender Sessions, Cask Tasting Tours, and The Masterclass.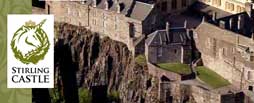 Stirling Castle
www.stirlingcastle.gov.uk
Stirling Castle, located in Stirling, is one of the largest and most important castles, both historically and architecturally, in Scotland. One of Scotland's grandest castles due to its imposing position and impressive architecture, Stirling Castle commands the countryside for many miles around. It towers over some of the most important battlefields of Scotland's past including Stirling Bridge, the site of William Wallace's victory over the English in 1297, and Bannockburn where Robert the Bruce defeated the same foe in the summer of 1314.
Loch Lomond
www.lochlomond-trossachs.org
|
www.lovelochlomond.com
You can reach the east side of Loch Lomond within 10 minutes from Stable Lodge. Loch Lomond is approximately 23 miles long and five miles wide, making it the single largest expanse of fresh water in Great Britain. It is frequently described by many as the Queen of Scottish Lochs and the 'Gateway to the Highlands' . But it's what happens on and around the water that perhaps makes the Loch most special. Balloch is an ideal starting point to explore the Loch with a boat trip on Sweeneys Cruises www.sweenyscruises.co.uk. All the boats have indoor areas so no matter the weather you can enjoy a cruise up the Loch. Loch Lomond shores is a must with super indoor shopping, outdoor children's play area and aquarium.
Loch Lomond Sealife Aquarium
www.visitsealife.com/loch-lomond
Tro-pical Stingrays and Sharks can be seen in the Ocean Tunnel which is the largest in Scotland. Visit Cammy the only Giant Sea Turtle in Scotland. You can hold a crab and touch a starfish in the fascinating interactive Rock Pool. You will meet the playful Otters and enjoy the Feeding frenzies! Talks and demonstrations throughout the day. Hot & Cold drinks, snacks, sandwiches and cakes are available in the Loch View Cafe. Some of Scotland's best artists have displays in the Staircase gallery exhibition.
Visit One of the Islands on Loch Lomond
Inchcailloch
A short ferry trip from Balmaha, is part of the Loch Lomond National Nature Reserve. This magical island is steeped in history and a haven for wildlife. The NatureTrail - which encompasses the entire island takes approximately 90 minutes to complete at a leisurely pace. The rest-area at the summit of the island offers spectacular views of Loch Lomond and its surrounding mountains. Included as part of the trail are the ruins of a fourteenth century chapel and burial ground. At Port Bawn on the South side of the Island there are barbecue facilities, picnic tables and a safe, clean, unspoilt beach. MacFarlanes boat Yard in Balmaha offers regular trips.
Inchmurrin
Inchmurrin has been inhabited since the 6th century and houses the ruin of Lennox castle, once visited by King Robert the Bruce and Mary Queen of Scots. The island also has a small family run hotel serving pub lunches during the summer months. You can get to Inchmurrin by Sweeneys Cruises in Balloch or MacFarlanes boat yard in Balmaha.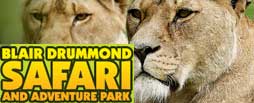 Blair Drummond Safari Park
www.blairdrummond.com
Wild Animal Reserves, Pet's Farm, Sea Lions, Adventure Play Area, Pirate Ship & Buried Treasure, Astraglide, Boats to Chimp Island, Pedalos, Bird of Prey Centre & Display, "Flying Fox" and Picnic and Barbeque Areas. Open March to October.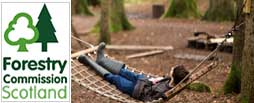 The Lodge Forrest Visitor Centre Aberfoyle
A NEW Forest Visitor Centre at Aberfoyle.
Forestry Commission Scotland are proud to unveil the state of the art centre, featuring a cafe that offers a spectacular floor to ceiling view of the forest. Great for walks and play area where the family can enjoy den building. Stunning waterfall makes a fabulous background for those holiday snaps.